Sound Pressure Level Capture Trigger
This trigger uses the SPL of the audio detected start and stop captures. Example: Rocket launches with an uncertain launch time, set the SPL to automatically start a capture when the engines fire.
Customize SPL Detected Capture
      Start Sensitivity    dB or above, start capture
      End Sensitivity    dB or below, stop capture
      Start Delay    seconds before reading audio level.
      Hold Time    seconds, to continue recording after audio level has dropped.

Note: you will have to manually set the mode in which you capture. The detector can be combined with the Hindsight feature on HERO9/10/11.
GoProQR:
Sound Pressure Trigger


Share this QR Code as a URL:

Sensitivity Examples (Uncalibrated, so please experiment)
| SPL (dB) at 1m/3ft | Activity |
| --- | --- |
| 30 | calm room |
| 40-60 | conversation |
| 60-80 | passenger car |
| 80-90 | busy roadway |
| 100 | jack hammer |
| 110 | chain saw |
| 120 | horn |
On Screen Feedback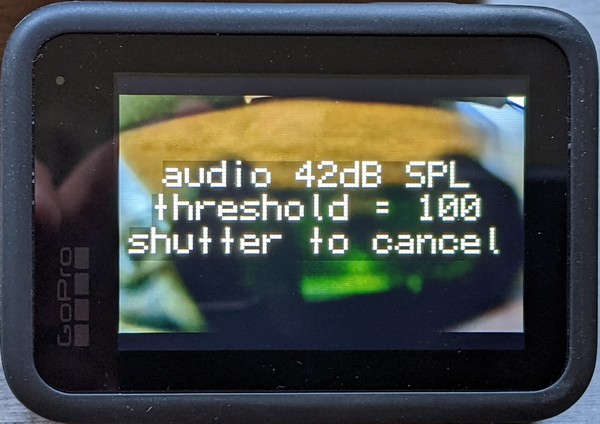 Compatibility: Labs enabled HERO9, HERO10, HERO11, HERO12 and BONES only
updated: Sept 13, 2023
More features for Labs enabled cameras